Upcoming Events
Nov 2 and 3 - Election Protection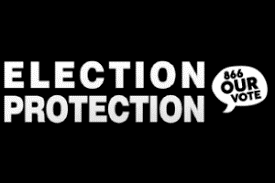 This year, Stinson LLP will once again host an Election Protection call center, receiving calls from voters and poll observers throughout the states of Missouri and Kansas on November 2nd and 3rd, 2020.
Election Protection (EP) is the nation's largest NON-PARTISAN voter protection coalition. EP's national voter hotlines (866-OUR-VOTE, 888-VE-Y-VOTA, 888-API-VOTE &888-Yalla-US) and Election Day field programs assist voters with problems and guide them throughout the voting process, regardless of party affiliation. Election Protection also provides critical legal resources year-round, including supporting partner organizations and voters during voter registration, early voting and absentee voting processes.
Due to a dramatic increase in call volume, Stinson will need more volunteers than ever before (25/shift on 11/2 and 50/shift on 11/3). If you would be willing to share this non-partisan volunteer opportunity with those in your law school communities (current students, alumni, professors, etc.), I would appreciate it. More information included below on how to sign up and get trained, including information about volunteering for the national call center throughout October.
Please feel free to reach out with any questions, and thank you for helping to spread the word! Ashley Crisafulli  (ashley.crisafulli@stinson.com
June 19 - UMKC School of Law 125th Anniversary
Join us for our grand celebration of the UMKC School of Law 125th Anniversary Saturday, June 19 at the Kansas City Convention Center Grand Ballroom. Featuring keynote speaker Doris Kearns Goodwin, a world-renowned presidential historian, public speaker and New York Times #1 best-selling author. Goodwin earned the Pulitzer Prize for No Ordinary Time: Franklin and Eleanor Roosevelt: The Home Front in World War II. Steven Spielberg's film Lincoln was based on her best-selling and award-winning Team of Rivals: The Political Genius of Abraham Lincoln.
Download Invitation
June 19, 2021
Kansas City Convention Center
Grand Ballroom
301 W. 13th St
Kansas City, Missouri