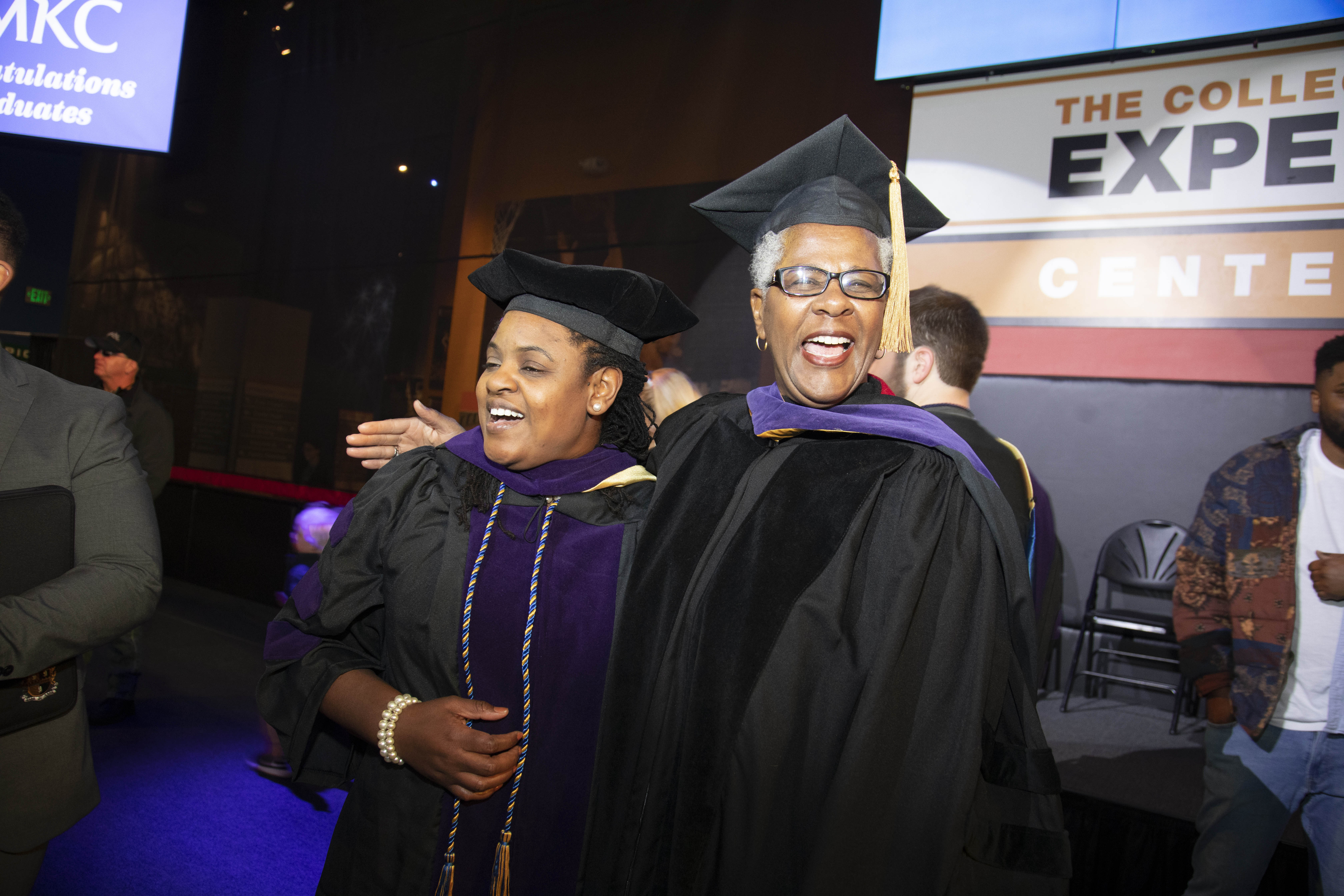 Victoria Anderson (J.D. 2022) and The Honorable Lajuana Counts (J.D. 1988)
The University of Missouri-Kansas City School of Law bestowed doctoral hoods to 16 students on December 18, 2022 as family and friends celebrated with them at the College Basketball Experience at the T-Mobile Center. Among them were 14 students earning their J.D. and 2 earning an LL.M.
In her opening remarks, Dean Barbara Glesner Fines reminded the students of the rules they learned at the beginning of their law school journey: take care of yourself and each other, live outside the law, nurture the people who nurture you, and commit yourself to the values of respect for people, for knowledge and ideas, and for justice.
Associate Dean of Students, Allen Rostron read a message from Professor Sean O'Brien, who was elected professor of the year by the Class of 2022. Professor O'Brien reflected on how the significant events of the past few years has helped this class prepare for their careers as attorneys. In his work for the public defender's office, he stated, "Often our work as lawyers is a matter of life and death … Watching my colleagues struggle against heavy odds, with caseloads and responsibilities that no lawyer should have to bear, and seeing them bear it with so much grace, pride, and even joy, it occurred to me that pressure makes diamonds. So that's what we would say when we got appointed to an impossible case, 'Pressure makes diamonds.' I've thought a lot about those days when I think of this graduating class. "
This year's student speaker was the Student Bar Association Vice President, Sommari Muwwakki. In his remarks, "For you, our most recent graduates, endowed with the knowledge and skills you have acquired here at UMKC, you will be the architects and guardians of the laws that protect and sustain civil society. It will be your responsibility to maintain the fine balance that guards hope against the threat of despair. Whether here in Kansas City, or in any of the countries throughout the world from which you came or to which you will go, you…..you are the architects of hope."
Their degrees were then conferred at the all-school commencement ceremony in the T-Mobile Center that afternoon.