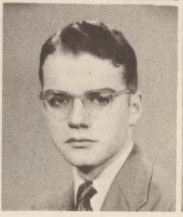 Frank Koger, KCU  Law 1952
The American Bankruptcy Institute held its annual Midwest Bankruptcy Conference this past week. The opening lecture of the conference is the Frank W. Koger Memorial Lecture, honoring Frank Koger, a 1953 graduate of the Kansas City University School of Law and prominent US Bankruptcy Judge. Judge Koger graduated first in his class and served as an editor of the Law Review, at the Kansas City University School of Law, graduating in 1953. After three years in the Air Force as a Staff Judge Advocate, he returned to Kansas City in 1956, where he practiced law for the next thirty years in the firm eventually known as Shockley, Reid & Koger. He was appointed as a United States Bankruptcy Judge in 1986. In 1996, he was appointed to the newly formed Bankruptcy Appellate Panel for the Eighth Circuit, and served as its first Chief Judge until his death. As a Bankruptcy Judge, he published 321 opinions, and wrote or participated in another 31 as a Bankruptcy Appellate Judge. His legacy continued with his daughter Courtney Koger, a partner at the Kutak Rock Law Firm and granddaughter Tory Findley, also a UMKC Law graduate, class of 2012.
Because of the generosity of the ABI and the Koger family, we select a Koger Scholar each year among our students. Koger Scholars have outstanding academic performance and a demonstrate interest in bankruptcy law. This year's Koger Scholar is Christonya Woodbury. Christonya transferred to us from California and has been an active and accomplished student since her arrival. She has been an active member of the Older Wiser Law Students (OWLS) and the Military Veterans Law Association. Prior to starting law school, Christonya served in the United States Navy and worked as a paralegal for a bankruptcy firm. While in law school, she has continued to pursue her interest in bankruptcy in her academic work and in clerking for a bankruptcy law firm. Christonya was introduced to the bankruptcy community at the Koger Lecture on Thursday.