The Legacy Award The Edelman Family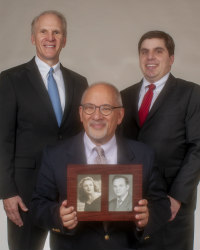 The Edelman family's UMKC legacy began with 12-year-old Doris Edelman, who fled Nazi Germany in 1938. Sponsored by members of the local Jewish community, her family traveled to the Netherlands and Cuba before arriving in Kansas City. She'd go on to attend the University of Kansas City (J.D. now UMKC) and graduate in 1947 with a bachelor's degree in Spanish and economics. That same year, Doris met her husband William Edelman, a fellow Roo who would graduate in 1954 with a bachelor's degree in psychology. Doris had a successful career as a stockbroker and was the first female vice president and partner of B.C. Christopher and Company where she worked for more than 20 years. William served patients in the heart of Kansas City as a family physician for more than 50 years before retiring in 2001.
Their oldest son, Mark (J.D. '75), founded the Theater League, Inc., a not-for-profit community-based performing arts organization that presented the best of Broadway to Kansas City audiences for 42 years.
Youngest son Ron (J.D. '82) opened one of the region's most successful law practices — Edelman and Thompson — with James Thompson in 1994.
Middle son Alan and his wife, Debbie Sosland-Edelman, great supporters of UMKC, also connect with the university through their son Alexander (J.D. '12). He started his own firm with two other UMKC alumni and was recognized by the National LGBT Bar Association as one of the "40 Best Attorneys Under 40."
The Bill French Service Award Jim Polsinelli (J.D. '67, H.D. (J.D. '13)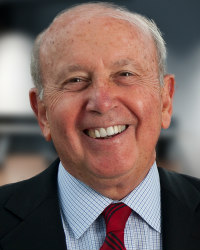 Since starting a law firm in 1972 with two fellow UMKC alumni, James Polsinelli's name has become synonymous with legal services in Kansas City and across the country. His trademark integrity, entrepreneurial spirit and adaptability have made his firm one of the city's largest. In addition to a successful, 51-year legal career, Polsinelli is known for his ardent and longstanding support of UMKC and the Kansas City community. He currently serves as chair of the UMKC Board of Trustees and as a director on the UMKC Foundation Board. He supports the university's students by sponsoring receptions at his firm, advocating for the university in Jefferson City and, in 2018, he co-chaired the UMKC Alumni Awards event that raises money for student scholarships.
A hallmark trait of Polisnelli's style is his ability to inspire others and empower them to act — whether he's passing on his excitement for service or mentoring a new generation of lawyers. His passion for giving back to the community extends beyond UMKC and includes work with the Kansas City Area Transportation Authority, Rockhurst High School, and the Kansas City Bar Association.
Law Achievement Award Mira Mdivani (J.D. '99) 
Mira Mdivani is one of the nation's top corporate immigration attorneys, Immediate President of the Kansas Bar Association, and has received numerous honors including for her pro bono work. Mdivani Corporate Immigration Law guides employers through complex issues involving visas for international personnel, business global mobility, and U.S. corporate immigration compliance. Their training arm, Corporate Immigration Compliance Institute, trains in-house counsel, business lawyers, and human resource personnel on I-9 compliance and global mobility issues. Mdivani serves as a UMKC School of Law adjunct professor and member of the Law Alumni Association Board and Law Foundation Board of Trustees. Honored with a 2019 Missouri Bar Pro Bono Publico Award, Mdivani's firm has provided pro bono services to immigrant women and children escaping abuse and violence for 20 years. She is a Jackson County CASA and Lyric Opera board member, Harriman-Jewell Series advisory board member, and Nelson-Atkins and K.C. Symphony business councils' member.
Join us on April 16, 2021 for our first-ever virtual Alumni Awards celebration!
The pandemic caused us to postpone last year's celebration, but we are ready and excited to honor our Class of 2020 Awardees. Join us as we tell their stories of hard work, dedication, persistence and triumph as they rose to the top of their professions and helped make the world a better place for all.
Friday, April 16, 2021, Premiering on YouTube, 5:00 - 6:15 p.m.