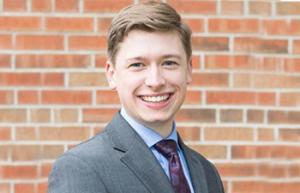 Jonathan Brown won the Warren E. Burger Prize for Writing for his essay, "Two Approaches to the Modern Reality of Temporary Cross-Border Legal Practice: The United States and the European Community."

The Warren E. Burger Prize for Writing is a competition designed to promote scholarship in the areas of professionalism, ethics, civility and legal excellence. The Burger Prize is one of four awards given at the American Inns of Court's annual Celebration of Excellence. American Inns of Court is an association of lawyers, judges and other legal professionals from all levels and backgrounds who share a passion for professional excellence.

The nationwide writing competition is in tribute to the late Chief Justice Burger, the "founding father" of the American Inns of Court movement. Chief Justice Burger envisioned an organization that would help lawyers improve their advocacy skills, with an emphasis on professional integrity and ethics.

Brown's essay was written for his Global Legal Systems course in Spring 2018, with the competition in mind. The course, taught by Professor Thomas Nanney, explores different legal traditions and systems, mainly within the Civil and the Common Law traditions, focusing on each tradition's history, legal structures, legal actors, procedures, and sources of law. Nanney provided Brown with valuable input as he developed the essay.

"Professor Nanney was instrumental in helping guide the topic of my paper," says Brown. "It allowed me, as a 3L about to enter the legal profession, to further understand our own rules of professional conduct while gaining insight by seeing how other legal systems have taken a different approach to the same problem."

The essay compared and analyzed how the U.S. and European professional rules deal with "inter-state" legal practice: i.e. if a practicing attorney in one state may temporarily practice in another. Brown proposes that as our globalized world becomes more connected, multijurisdictional practice will continue to become an important facet of global economies and legal systems.

Brown was only the second law student to ever win the Burger Prize; the first won in 2015. Typically, he says, the award winners are legal practitioners.

"It's a great honor," Brown says. "This is one of the best things about the legal profession. There are so many avenues to be part of advancing legal scholarship and to make valuable contributions to the profession, even as a law student."

As part of the prize, the essay will be published in Volume 70 of the South Carolina Law Review. Brown will also travel to Washington, D.C. in October to be presented with a cash prize of $5,000 at the American Inns of Court Celebration of Excellence hosted by Justice Clarence Thomas at the Supreme Court of the United States.