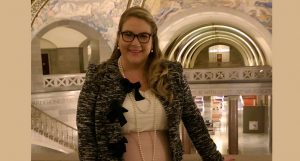 "It was a roller coaster," says Arielle Spiridigliozzi, who took the bar exam five times before passing. "Each time I took the bar exam, I met a new obstacle."

Spiridigliozzi graduated in May 2016 and took the bar examination for the first time in July 2016. As soon as she walked into the exam, she panicked. She had studied all summer and had also taken Professor Wanda Temm's bar prep course during the school year, but she was in too deep.

"I listened to how other people told me I 'should' study, I ignored how I had successfully studied in law school and I got lost in the minutiae," she says.

Spiridigliozzi had been clerking with Berkowitz Cook Gondring Driskell & Drobeck, LLC and, unfortunately, had to set aside becoming an associate.

The second time around, Spiridigliozzi felt she got lost in the busy work, making flashcards and outlines. After finding out she failed the bar exam in April 2017, she and her close friend and study partner, David Haddock (J.D. '16), decided to take the July 2017 bar together. A month later, David passed away suddenly, and Spiridigliozzi was met with a new challenge: overcoming grief.

While her father suggested she take a break from studying and put off the bar, Spiridigliozzi felt obligated to continue on in David's stead.

"I'm so proud of myself for sitting through that exam," she says. She processed her grief by pressing on. "I didn't want to let David down."

Professor Temm, Professor Judy Popper and Associate Dean Nancy Levit all provided their support and helped Spiridigliozzi meet her grief head on and were her "pillars" of strength.

By the fourth time, Spiridigliozzi was inundated with materials from friends who wanted to help and supplied her with everything she could ever need. Or didn't need. Spiridigliozzi paired up with Tori Laughlin (J.D. '16) and they held each other accountable, but Spiridigliozzi got lost in the materials once again.

"I thought I'd done everything right," she says, "But it was also difficult to retain material when I was working full-time while studying for the bar."

As time had gone on, Spiridigliozzi had to rework how she viewed the exam and herself.

"The exam does not reflect who you are as a person or your work ethic," she says. "I used to look at the test as something that defined me. But I knew that I couldn't quit if this is what I wanted to do."

She worked on her own confidence and made a promise to herself in May 2018, as she studied for the bar for the fifth time.

"I picked up the pieces for the fifth time and I promised myself that this would be the last time: no more excuses, no more feeling sorry for myself, and no more negative thoughts."

Spiridigliozzi did 50 questions a day, tracked them as she had many times before to decipher what areas she needed to work on, and consulted Professor Temm to make sure she was on the right track. Temm, she says, was one person who she felt accountable to.

Spiridigliozzi says that she focused on the areas she hadn't before.

"You have to study what scares you and have to study those things that make you uncomfortable," she says. "The essays you have no answers to and the questions you don't understand. You will learn the material if you study what makes you uncomfortable."

When she ventured to take it for the fifth — and final — time this past July, Spiridigliozzi went about things a little differently. She took time away from work in the final stretch, and she and her mom made the trek to Columbia together. Previously, Spiridigliozzi's boyfriend, Scot Tipton (J.D. '16) had always made the trip with her, but this time, when the exam came around, Scot had court, so Spiridigliozzi's mom rode with her and helped her prep for the big day.

Several weeks later, Spiridigliozzi's sister helped break the news that she passed the bar. She had finally crossed that threshold.

"Listen to yourself, especially in taking time away, and make a study plan that works for you," Spiridigliozzi says. "You have to ask yourself if this is where you want your story to end. For me, it wasn't. I was not going to quit. And you have to think that you were given this mountain to show others that it could be moved."

Move the mountain she did.